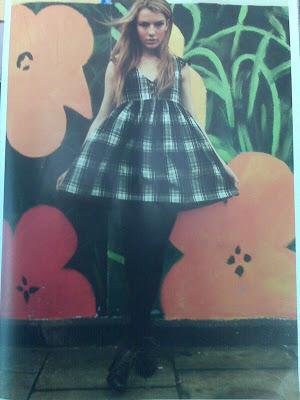 Yesterday evening I popped into the MiH (previously Made in Heaven) jeans headquarters for a sneak peek of the autumn/winter 2009 collection. Â My first visit to their showroom, the 40 minute hike to the bottom of the King's Road and into the depths of a South West London industrial estate was well worth it… Â I want to move in! Â More like a converted barn than a 'unit', framed photographs archiving MiH's history line the walls (see pic above), piles of colourful t-shirts brighten up nooks and crannies and massive country kitchen wooden tables provide centre pieces topped with welcoming biscuits to nibble on. Â Oh so inviting!
Cup of Earl Grey in hand, Susan, head of press and public relations, talks me through the new styles. Â I instantly fall for the Oslo. Â Black velvet skinnies that look like the could have been pinched straight from Kate Moss – really rock 'n' roll and possibly the next big thing for the skinny trouser? Â There's a mean little checked dress called the Winter dress with a swinging skirt that would look great paired with thick woolly tights and a beret come autumn.
But the reason why I
really
love MiH is because of its retro roots. Â Originally established in the 60's as Made in Heaven, Jane Birkin and Farrah Fawcett wore these jeans. Â Set up by rag-trade mogul Tony Lonsdale and his wife, top model Chekkie Maskell, their daughter Chloe Lonsdale has revived old styles so that we can wear them now. Â These are real live-in jeans. Â I wear my trusted ankle grazers – the Paris in the Pacific wash – ALL of the time and not only do people comment of the fit and the length, but the colour… Â That colour gets praise every time! Â They're in the current spring/summer '09 collection and well worth a try-on if you are ever near a MiH stockist.
Key autumn/winter '09 styles to bag: the Roadtrip, the Berlin and the London Boy jeans and the Cowgirl shirt that's made of waffle fabric – super soft. Â You'll have to wait a few months mind!