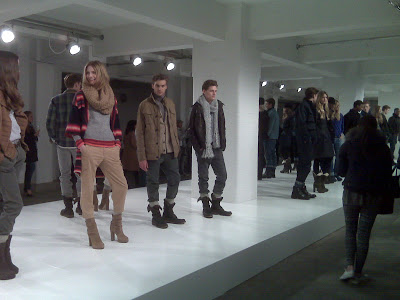 I stopped in at
Gap's
Fall 2009 collection preview last night. Â Set in The Flower Cellars in Covent Garden (the last time I went there was for House of Fraser's press day and it was packed with clothes, beds and sofas – was shocked at how stark it was in there last night. Â It's a really, really big space!) we all froze a little during the wait to get in but luckily they were only running ten minutes late.
I expected a full on catwalk but the static version was actually really nice and a lot less formal. Â Felt for the models having to stand still for 30 minutes but at least they were paired up boy-girl so that they could discreetly natter.
Love the new boots.  The khaki and blue calf-graving ones were just lovely and I even fell for the boy's boots too – wonder if they go down to a size 5?  Must find out!  Will also be snapping up one of the duffle cardigan coats and bowl shaped military hats but the jury's out on the padded gilet – street chic or another 90's comeback to far?  I'm still deciding.