Being a longtime veteran in the fashion industry and starting out my career as a fashion assistant over a decade ago, I'm forever searching for shortcuts and hacks to make wardrobe-life that little bit easier. When I first worked for magazines, styling shopping features in studios and real people out on the streets, I soon discovered that keeping my clothing collection well kept and in order, whether at home or travelling, would make things a whole lot easier in the long run.
Never knowing when I'm going to need to pull something from my wardrobe to wear on a shoot and being active on social platforms like Instagram and Pinterest means the images I'm putting out there need to be as near to perfect as they can be when they are first shot. Having an expert art team's retouching skills on tap is a luxury these days!
On that note, I've rounded up my hot tips and tricks including all the latest gizmos and gadgets, new wardrobe innovations and styling kit essentials so that you can keep your closet and clothing ship shape too. Let this little lot lend a helping hand…
Good Quality Luggage
A solid, sturdy suitcase is a must for a life centred around fashion. Whether you're running around lugging samples for a shoot, packing up outfits for a weekend away or off long haul for a two week break warranting daily outfit changes, it's well worth investing in good quality baggage.
Generally I rely on two to three different sizes suitcases (for different length stays and needs) and a selection of hang luggage, from cabin case to throw-it-all in holdalls, backpacks and totes.
You can't beat American Tourister for quality and price. The collection is so diverse, from classic colours to fun brights. My pick is this Lock 'N' Roll large spinner suitcase in something bright like the marine blue. Antler and Samsonite are other great entry-price cases, but if you're really splashing the cash try Globe-Trotter and Mulberry for something seriously stylish. Longchamp does the best travel holdalls that are lightweight and spacious.
Cutting Edge Irons and Steamers
That decade-old battered iron you're using? It's got to go! I for one am guilty of not paying much attention to my iron, with an 'it does the job' mentality. That was until I came across the new steam generated irons. A new wave of these high tech models have descended, and I must say the Philips PerfectCare Elite iron is pretty impressive.
OptimalTEMP technology  – the perfect combination of steam and temperature – means you can iron everything from jeans to fine silk, without changing the temperature settings. All that worry about taking your eye off the ball and burning your favourite top has gone. Although it looks chunky (and the base that creates the steam is) the actual iron itself is as light as a regular one. All you have to do is fill up the water tank, switch on and go. No more messing around with fiddly settings.
I tested it out on my crumpled silk blend Lily and Lionel scarf, which is pretty delicate, and in seconds look at the results. Smooth and crease-free, without having to set the temperature right down to the lowest setting or laying a handkerchief on top to prevent marking.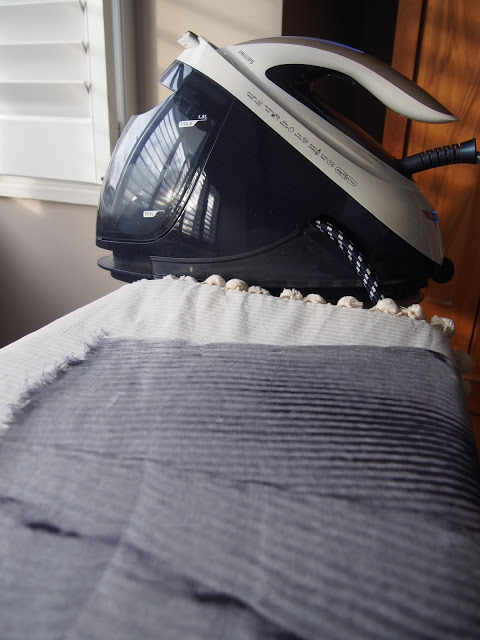 That said, if you're a bit slack with keeping up to date with your ironing pile (guilty!) and often need to get your clothes crease-free at 7am weekdays before work with half an eye open, then a garment steamer is also a good purchase. I have mine constantly set up with a filled tank so that I can flick the on switch simultaneously with the kettle in the morning for a quick crease-free fix. I use a compact Rowenta (£99.95 at John Lewis) which heats up and produces steam in seconds.
Wardrobe Hacks
Here I've rounded up the other wardrobe helping hands I find useful for keeping my clothing collection in check. From sweater combs (be gone, bobbles) to heated airers that'll dry your clothes in a flash and lint-busting sticky rollers, it's time to top up your kit…