It's all well and good throwing all your spare cash at fancy sandals and posh cossies just because the weather's nice but in real life, those summer impulse splurges aren't going to cut the mustard when you've got that really important meeting, date with the girls or family get together. You'll find yourself set when on hols or visiting the local lido but stood in front of the closet with nothing stand out to wear for everyday activities the rest of the time. Enter the swarm of stellar shirting hitting the rails in a glorious waft of ultra wearable (and pretty) summery glory.
Why You Need To Get On Board
Not only can you simply throw on a knock-out shirt like this with no-fuss, wear-them-daily jeans or denim shorts and pretty much forget about every other outfit element bar a pair of shoes and great handbag, they'll keep you cool in the heat too. Pick a lightweight, cotton style like this dainty gingham M&S beauty, and you'll really notice the benefit when navigating high twenties city heat and balmy restaurants in the evening on holiday.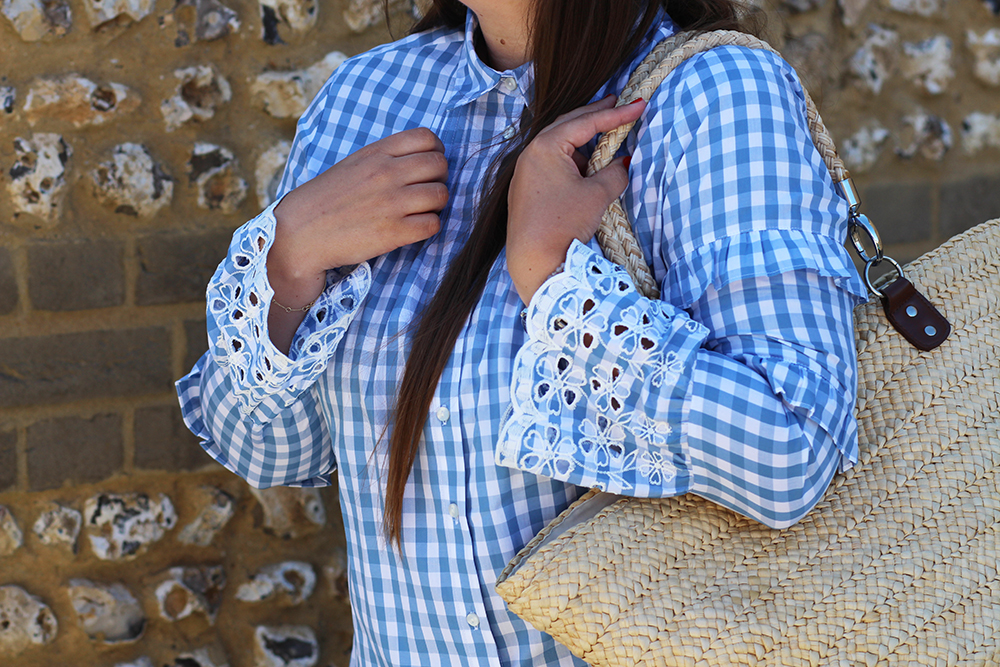 What To Look Out For
The obvious trends for instant summer impact are gingham, ruffle details, florals and broderie anglaise finishes. This blue and white style happily ticks off three of the above, with an easy all-rounder blue, frilly sleeves and broderie embroidered element that looks so designery in real life it literally stopped me in my tracks when I first spied it. For something everlasting, a boyish, classic stripe cut will provide staying power. Check out this Marella one at John Lewis, the embroidered palm detail really makes it.
How To Accessorise Them
Guilty, I'm one of the straw bag suckers who as soon as the sun comes out won't go anywhere without her woven basket. But I totally undertand that they're not always appropriate for the office and aren't everyone's cup of tea. Mini bucket bags are having a real moment, this red drawstring style is great. Or try a roomy, statement shopper like New Look's metallic palm print pretty. A sweeping, tasselled earring is seriously on point (find them at Mango) and don't forget some jaunty, summery shades. These Warehouse ones are now in the sale – £10, go – and really catch the light well.
Stellar Shirting: Shop It, Style It
My go-to for running around town at press appointments, or taking Hector to his baby classes (mums – it's amazing how much a print can hide!) what I really love about the whole gingham revival is its ability to be delicate enough for day and then dramatic at night. No need to go home and switch tops, just grab the first lippie in your handbag and replace trainers with smart sandals. Espadrilles look really fab with these checks too, there's something very Riviera glam about it all.
Lap up the warm weather everyone, today's set to be another corker with plenty of the good rays. I think an after work picnic is absolutely necessary.
Looking for a dress fix? Over here for the cotton summer frock of your dreams. (PS. It's red and white stripes and only £12.99!)