Want to know what fashion designer Olivia Rubin predicts will rock your Autumn/Winter 2017 wardrobe? Fancy finding out what beauty products she can't live without and her latest home hack? Plus, how exactly does a working mum juggle it all? Hector and I stole away Olivia for a five minute catch up at her new collection launch at London's Sanderson hotel. Pop the kettle on, grab a brew and snuggle down for a watch.
Olivia Rubin: The AW17 Collection
The thing that sets Olivia Rubin apart from many other independent British fashion designers kicking up a storm over on Instagram right now is that she's a seasoned industry pro. With over a decade of experience designing for women, a talent for hand crafting directional prints and whipping up silhouettes and shapes that savvy, working women (and mums) adore, it's pretty much impossible to view her collection and not fall hard for each and every piece.
A romantic, ruffled maxi skirt, or dramatic floaty trouser might not have been first on your autumn/winter 2017 hit list, but you see that's what Olivia does so well, she makes you pine for a fashion addition you'd not normally gravitate to. You know, those look-at-me pieces that take us slightly out of our wardrobe comfort zones? The ones that we like the look of but swiftly talk ourselves out of trying. Well, she makes us all want to try them out (or on) and it's the easy everyday styling that she has down to a fine art that's the real deciding factor. Take one glam item and turn it into no-brainer closet staple by blended with classic knitwear, basic t-shirts and sturdy boots. Ah hah, and now you see the appeal.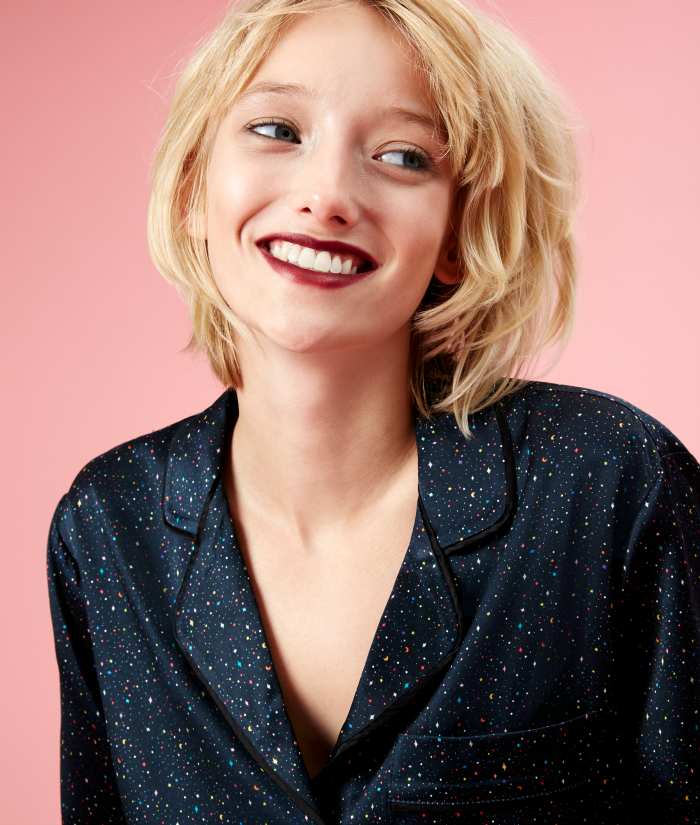 For AW17, it's the on point red, heirloom florals and galaxy print (made up of hundreds of multicoloured stars) that are causing all the fuss within the devoted Rubin customers. The night before launch day, and already 70 percent of the new in styles have sold out online. Why? A couple of key factors really…
1) Olivia is the ultimate poster girl, throwing on a swishy, delicately printed maxi skirt or midi dress with a chunky high street jumper on top and the season's cult designer boots. Outfits that seamlessly cruise from morning school run, to hours in the design studio and meetings with press before circling back to school and nursery pick up on the way home. (She's got two girls). This mama can, and she will. It's that juggling-it-all confidence that appeals to so many of the fashion insiders and mum fans who follow her work, collections and social media feeds religiously.
2) Her designs are quite simply, really, really good.
That red Ozzie dress she's wearing with cool, comfortable boots at her collection launch is looking like a pretty wise move, we hear you say? Hold up, you're going to have to be quicker than that gang, because it's already sold out once. (We hear there may be another delivery imminent due to popular demand, so all hope is not lost!)
Olivia Rubin: Style How To
"I think it's all about the maxi dress and the maxi skirt at the moment," Olivia told me. "So easy to wear and the perfect transitional piece for day to night. Dress up, dress down, add knitwear, a t-shirt, you're done."
Inside Olivia Rubin's Make Up Bag
On the beauty front, she's a girl after our own hearts sticking to two key make up heroes. "One product I love at the moment is the Eve Lom lip balm, which is just a really light lip gloss for day," Olivia spills. "I also love Charlotte Tilbury mascara for keeping the lashes long."
Olivia Rubin's Decor Hack
At home Olivia admits it's a bit more chaotic compared with her super organised studio! But what's really making her tick when it comes to interiors right now? "Porcelain antique pink vases. Think, modern retro and hold the flowers – I like them to be empty."
Olivia Rubin: Mama To Mama
Motherhood and career, can we really have it all? As a working mum how does she juggle it? "I don't," she laughs. "My four year old's at home now, she's always poorly whenever I do an event or launch, that's just standard! I just try to be as organised as possible. I try to arrange meetings and my design work around nursery drop off, school pick up. As long as you're organised it's ok. I personally work better under pressure, so as long as you've got everything sorted and in place, you'll be fine."
Watch Olivia Rubin spill her style, beauty, decor and motherhood tips.
On the hunt for a new handbag buy? Right this way to explore Mulberry's AW17 updated Bayswater tote. It's roomy and in the hue of the season, postbox red.