Step away from the skinny jeans. Isn't it liberating when an outfit isn't totally built around denim? Don't get me wrong, I love my stash of loyal stone, mid-blue and black rinse bottoms but right now, particularly when the sun is shining, all I really want to wear are the lifting, upbeat buys. This hero midi skirt fits the bill nicely.
The extra special pieces that give you a real kick when you spot them on the rails (or on screen phone-shopping at 3am). I've found that happy fix in the form of River Island's checked bow belted skirt.
Let's start with the shape. It's not a pencil, not an A-line midi, but somewhere inbetween. Somewhere very flattering, I can confirm. This cut's just got it, you know, in a shimmy-into-it-and-watch-how-your-waist-nips-and-hips-smooth kind of way. Plus, there's leg coverage.
Upgrade Your Skirt: 5 To Get Excited About
Next up, the print. It just works. Monochrome is classic. Checks are classic. But on a summer-to-autumn skirt, feel all together surprisingly new and crammed with not-everyone's-wearing-it-yet edge. A black and white palette means you can add just about any of the tops you already own, although snapping up a jazzy new slogan t-shirt will always be a good idea too, obvs.
There's a funny story about this tee. I bumped into a blogger/journo pal recently. She's a fellow mum too, and had on the brightest, happiest yellow t-shirt. I fell for it hard. Said tee is a Whistles number, canary yellow with white 'Hello Sunshine' embroidered across the front. (Now £40 in the sale FYI.) We laughed when she quipped, 'it's to distract from the mum-bags'… too true, there's only so much a good eye cream can do for us sleep deprived folk. Anyway, I fast became fixated on finding a bright yellow tee, and them BAM – H&M came up trumps. Oh and Ellie Crompton, (check out her blog The Mumday Times when you get a mo) I'm talking about you BTW and I honestly didn't notice the eye bags!
Ok, back to the skirt. Pockets and a belt long enough to tie a fancy bow. Need I say more?
I really wanted to wear this with white trainers but I just don't have the height to pull it off. Single bar Birkenstocks offer the same comfort and are a great leg-lengthening flattie option. I'm also loving that the belt detail creates eye-grabbing attention around the middle, perfect for postpartum mum-tum distracting.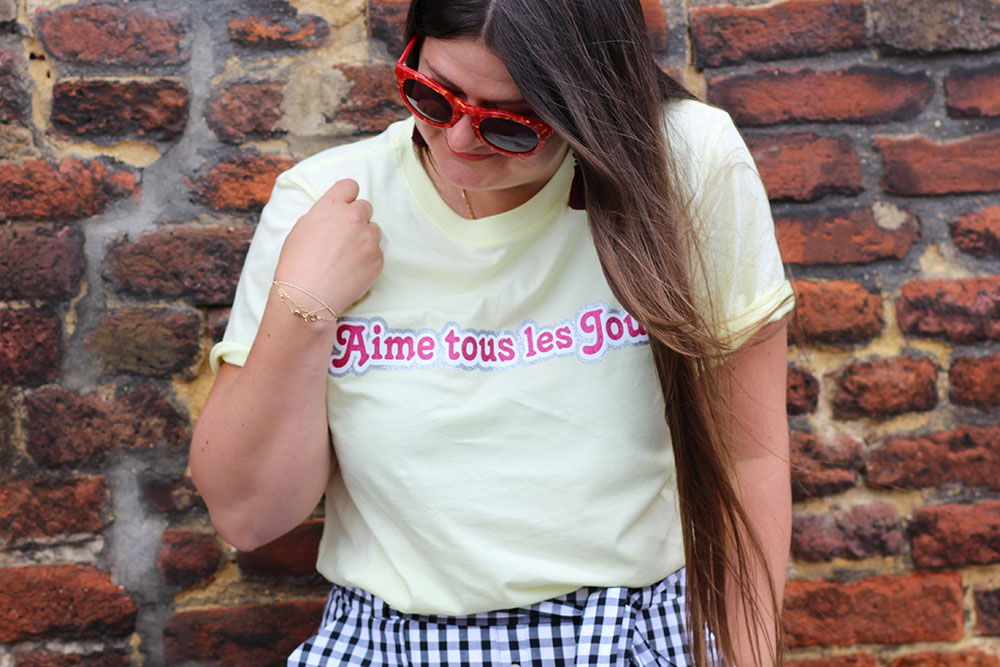 Shop It, Style It
I took this ensemble out for a Sunday family mooch around Wimbledon Village. It's a ritual of ours when my husband's off work. Head up to the village early, snap some shots, grab coffee and the papers, stock up on cheese and naughty treats like homemade sausage rolls and pie at out favourite delicatessen Bailey and Sage, and make sure Hector takes in plenty of fresh air on Wimbledon Common.
Every wall, doorway and turn is ideal for shooting. Just look at these beautiful summer roses. Rustic yet pruned to perfection, and a little slice of country garden in London.
On another note, thanks to all the lovely ladies who've messaged me on Insta about Hector's new sleep training too. It's been really tough-going (we've just come out of the dreaded four month sleep regression and got into a bad habit of milk-snacking all through the night) but with the help of baby sleep expert Emilie Caro, things are getting back on track. I met Emilie recently at a mumpreneur networking event, and I'll be sharing her tips and tricks for baby sleep very soon. I'm all about sharing the wisdom! In the meantime, it's bright yellow t-shirts and orange lipstick all the way.
Looking for a dress fix? Over here for the cotton summer frock of your dreams. (PS. It's red and white stripes and now only £9 in the New Look sale!)