The long summer days mean we're all hunting out the simple suppers, those dishes we can prepare ahead and whip out in the evening, hopefully al fresco with a large glass of rose vino on the side. Madeleine Shaw makes a green gazpacho that's the perfect outdoorsy go-to. I've definitely shifted towards the easy recipes since having Hector, spending hours in the kitchen preparing, chopping, tweaking just isn't an option right now with a demanding five month old. But with guests popping in and out and stopping by for lunch at the weekends, I'm still looking for entertaining-worthy dishes that pack an impressive punch.
I've followed Madeleine Shaw for a long time, the soon-to-be mama makes wholesome, healthy eating appealing. The Green Gazpacho and Nectarine, Parma and Feta salad from her book Get The Glow are both delicious, no-fuss ideas perfect for sharing. The best bit about the gazpacho is you literally throw every ingredient into the processor and whizz it up. It's a no-brainer and I'll often double up on the quantities to store some extra servings in the fridge for lunches in the week. It's also really cooling on a hot day, and a pure bowl of vitamins, I literally feel like I'm cleansing as I'm devouring it!
Madeleine Shaw Green Gazpacho
Serves 2-3
Ingredients: 1 cucumber, roughly chopped. 1 yellow pepper, deseeded and roughly chopped. 1 clove garlic, crushed. 2 avocados, peeled, stoned and roughly chopped. 5 spring onions, roughly chopped. 1 handful fresh mint leaves. 1 tbsp cider vinegar. 200ml coconut milk. 200ml water. 2 tbsp olive oil. 1 green chilli, deseeded. 2 tsp sea salt. 1 large grind pepper. 1 tsp cayenne petter, to serve. 2 tbsp flaked almonds, to serve.
Method: Put all the ingredients except the cayenne and almonds into a blended or processor, whizz up until smooth. Sprinkle over cayenne and almond flakes, and serve chilled.
Tips: I'm guilty of upping the garlic here. I always do, I just love garlic. I add 2 cloves. Also, if you're doubling up to batch make and are using a Magimix, do the whizzing in two stages because the capacity can't take doing double in one go. I found out the hard way with everything spilling out onto my worktop! Oh, and it's a nice touch to chill the bowls you're serving it in in the fridge beforehand too.
Grilled Nectarine, Parma Ham and Runner Bean Salad
Serves 2
Ingredients: 150g runner beans, sliced. 2 nectarines. 30g watercress. 30g rocket. 100g Parma ham. 50g feta cheese, sliced. 2 tbsp sesame seeds. For the dressing: olive oil, pinch salt, 1 tsp English mustard. 1 tbsp runny honey.
Method: Steam beans in a pan with a little salted water and steam for five mins. Cut the nectarines into eighths, pop them in a griddle pan on a medium heat for 2 minutes each side. Layer the watercress, rocket, runner beans, Parma ham, feta cheese and nectarines on a platter (ad hoc!) Pour over a dressing made of a good few glugs of ollive oil, the pinch of salt, tsp of mustard and tbsp of honey. (Whisk in a mug with a fork.) Crack some black pepper on top.
Tip: Cutting the feta into fine slices, rather than cubes, looks much nicer and some slices will crumble into lovely feta sprinkles. Delish. Also, I have to confess I forgot the Parma ham in the supermarket and had to substitute it with honey roast ham from the fridge at the last minute! We had guests! It still tasted amazing but Parma ham is absolutely the way to go.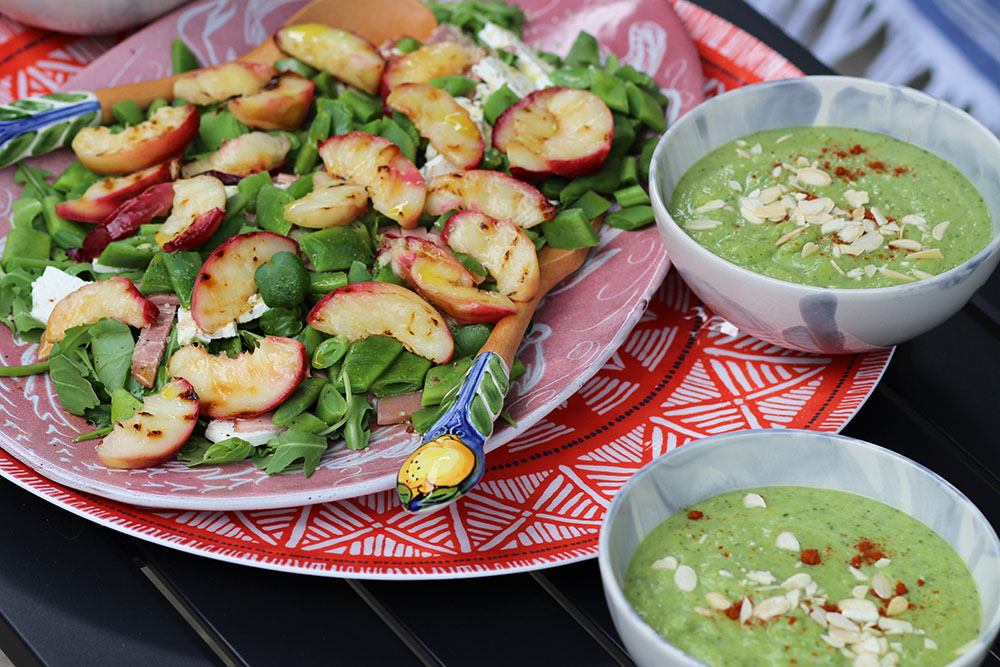 Dining Al Fresco
When feasting outside I feel it's important to keep things relaxed but still special. I'm a big fan of large platters like this oval vintage pink plate. Picked up in an antiques emporium in Sussex it's actually a lobster server (there's a lobster etched in white under all of those leaves) it's super sweet. The grey marble bowls are part of my main dinner set and are from M&S. I swear by their homeware. The salad servers were a gift from Italy and the big orange circular tray is part of Sainsbury's summer outdoors collection (it's plastic – perfect for al fresco) and the bohemian tribal design is exactly my style. I love it.
Looking for more weekend food inspo? Check out my party perfect charcuterie boards.