Who doesn't smile when they see pretty flower arrangements or luscious indoor greenery? It's infectious. An instant way to inject oomph into your home, I'm forever searching for new flower ideas and ways to display floral and fauna in my house, and am inspired by arrangements spotted everywhere I go. From shops to restaurants to hotels, keep your eyes peeled and you'll soon be spying things you like when you're out running errands and ticking off your weekly appointments. The options are endless.
Bare Bulb Appeal 
There's something rather satisfying about seeing a bare, unearthed bulb in its raw state. The Kilner-style jar really works in a kitchen space too. Frothy coffee optional.
Charming Vintage Glass Bottles 
Simple and yet so effective. A collection of old glass bottles lined up on a shelf at Soho Farmhouse's florist. Throw in the odd sprig and rose for a country-inspired display. The antique shelving and contrasting mix of dark and clear bottles really adds to the wow factor. 

The Power Of Three
Take one shop bought bunch and divide into three complementary clusters, grouping them together tightly on an entrance table, sideboard, guest room or on the table at a dinner party.
Theatrical Line Up
The first thing you see upon arrival at the Ham Yard Hotel, Soho, London, is a stunning theatrical welcome. Setting a rustic planter in front of art work creates something extra special. Ham Yard changes this arrangement up regularly, but this has got to be my favourite so far.
Minimalist Cheese Plant
A friend's studio adopts a clean, minimalist Scandinavian theme, brought to life by a simple cheese plant. These bold leaves depict the prettiest curved shapes, which soften the graphic grid lines of the window and trestle desk.
Striking Solo Stem
Statement doesn't always have to mean big and full-blown as this striking solo stem proves. Taking one bold, and very unique, flower and letting it take centre stage in a small glass vase is sometimes all that's needed. You could even pop one on each guests table place for a special event. 

Rustic Cactus Charm 
There's no escaping the current mood for all things cacti and succulents, it's the appeal of something very exotic, non-fussy, fierce and raw I think, not forgetting how easy it is to maintain and care for these types of plant. Set yours in a textured planter for a little slice of holiday all year long.
Bring Trees Indoors
Trees needn't be solely for the bottom of the garden or woodland. At Spring restaurant in Somerset House, London, these grand beauties line the edges of a room designed to feel very outdoors/indoors. You could almost be sitting in a courtyard or rooftop garden. (I'll let you in on a secret – these are artificial!)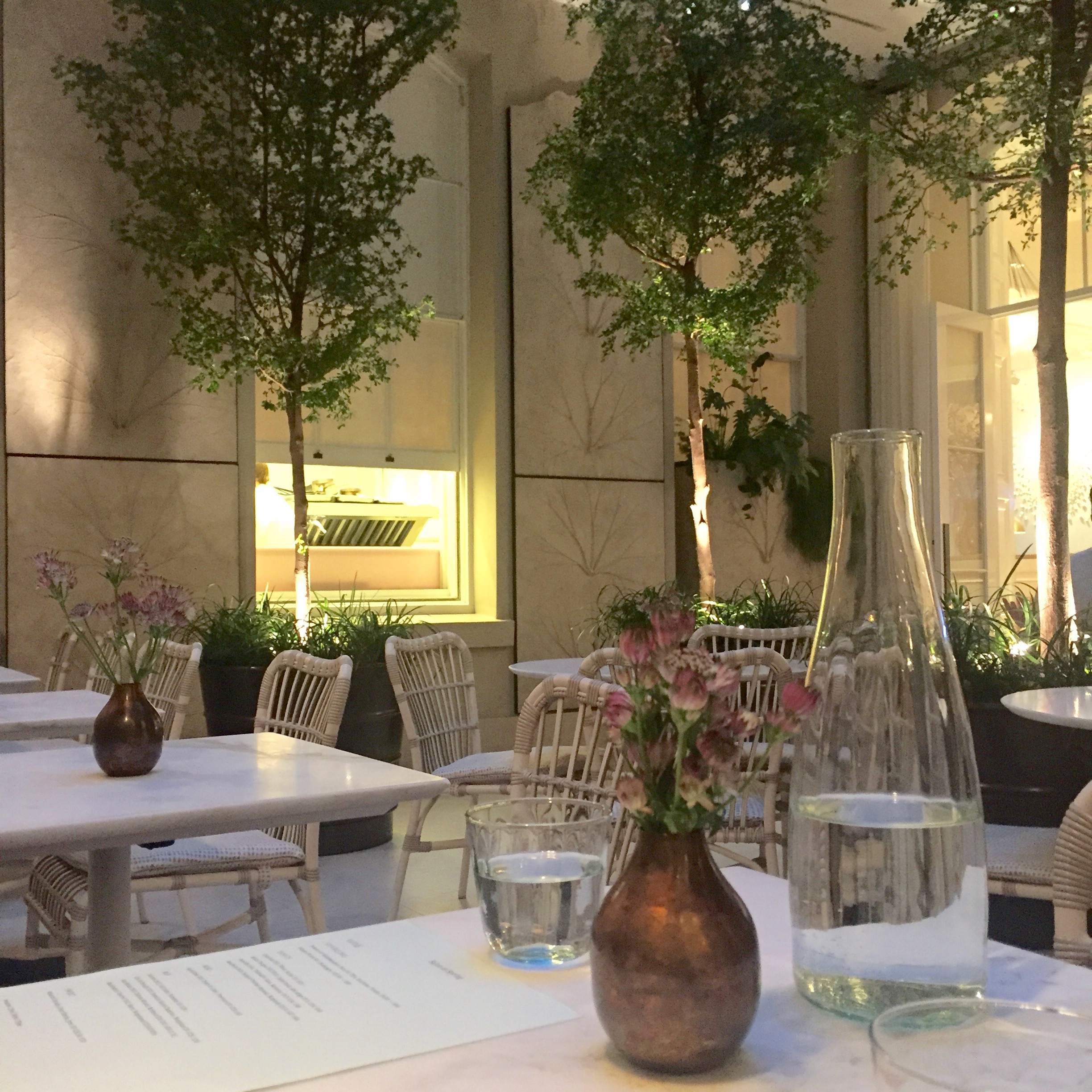 Colour With Conviction
For those who love a big hit of vibrant colour, take a leaf out of this London hotel's book by throwing as much strong yellow into a theme as possible. Sticking to one key hue, and letting this balance with the greenery creates instant impact (and it will look like you've been arranging it for hours!)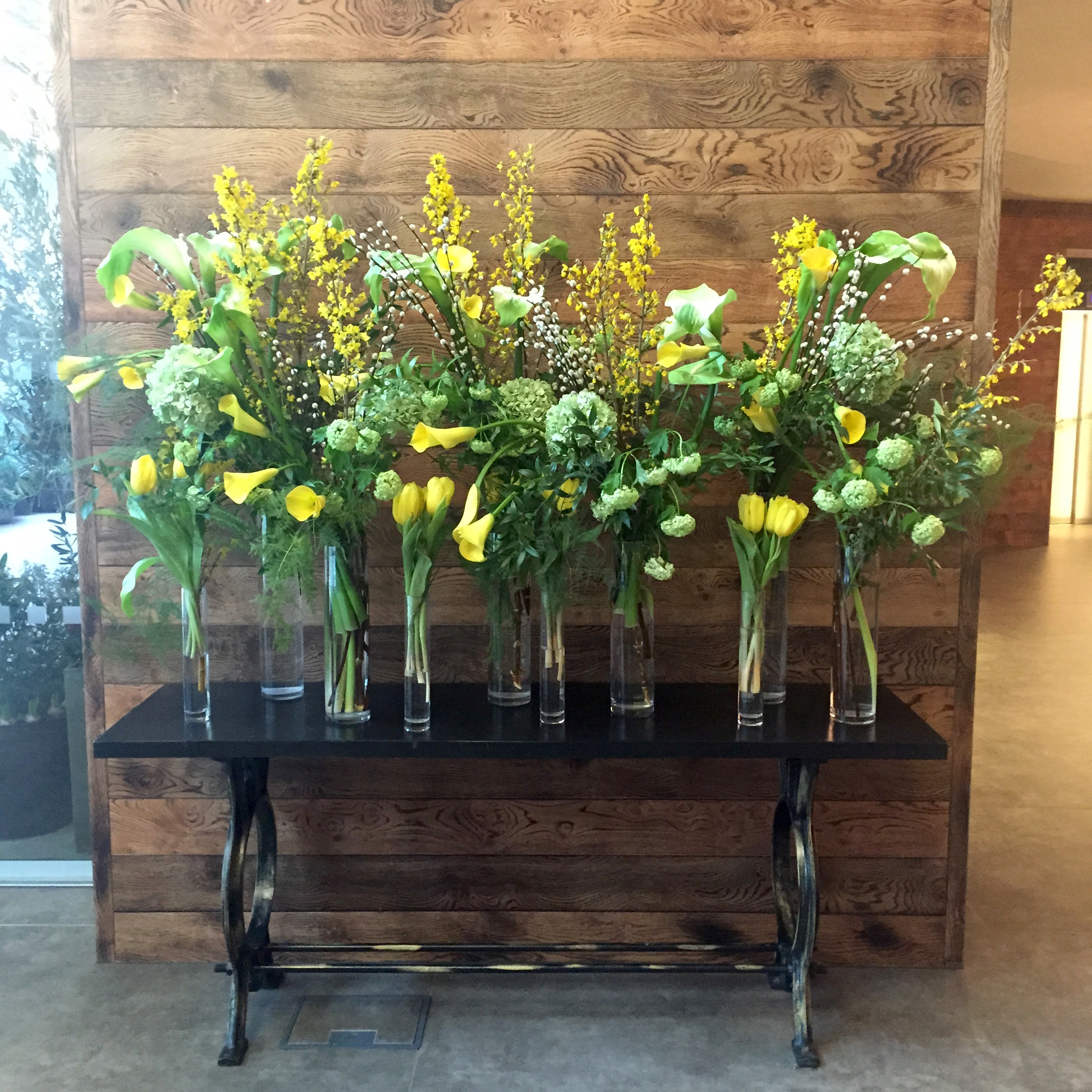 Ribbon Picture Frame
Displaying a pressed flower in a vintage-themed frame is a really great way to create unique wall hangings. Pick up these ribbon-topped photo frames at Nkuku and either hang solo, or in a group of three or four.
Fun Feature Shelf 
Snapped in an air B&B apartment in Barcelona, such a cute idea to rack up some favourite framed artwork and slot in some flowers. The garden and fruit themed prints really hammer home the feeling of nature.
Create A Flower Stall Indoors
Ok so this size wooden crates might be a little on the large side to have indoors, but opt for an old wine box, or any kind of wooden box picked up in second hand stores or car boot sales, then group together similar flowers and plants for impact. Skip the price tags.
Hero Flower Focus
Zeroing in on one key, hero flower brings the main focus onto one key stem (make it big and bold.) Then simply let the rest of the flowers and foliage form the backdrop, the more eclectic the better.
Focal Fireplace 
Fireplaces can become a bit redundant in the summer months, why not place a beautiful arrangement infront of the grate, it'll create interest and distract from the ash and coal that spills down the chimney when it's windy.
Amp Up A Plant Pot
I spied this inventive way of covering up an ugly planter on honeymoon in Mauritius. The hotel we stayed in wrapped fabric remnants around the base pots and it was the prettiest thing I've seen. Really cheap to do and highly effective. 

Embrace A Colour Theme
Found in a bathroom featuring marble and pink tiles, this is a great example of how sticking with one colour theme can be really punchy. The pink floor tiles, marble sink tops and pinky flowers all sing from the same pastel hymn sheet – and it works.
Suspended Delights
Whistles suspended hundreds of stems from the ceiling at their fashion press preview. Realistically (and unfortunately) this isn't going to work in quite the same way at home, but the idea has legs.  Hang stems from light fittings above the dining table, or outside on the patio for a BBQ if you have a pergola.
Sculptural Branches
If you're looking for something with longevity (and watching the pennies) then this one's for you. At Bamford's West London showroom these beautiful sculptural vases sit high on shelves and instead of pricy blooms filling them, it's simple branches forming the perfect back-to-nature spin.
Blend Terracotta And Grey 
There's no need to stick to one planter style, by mixing terracotta and grey concrete finishes here, a display with warmth and depth is created. Try filling a metal shelving unit with multiple pots in the corner of a day room, or kitchen diner. Would look great in a conservatory too.