When it comes to your wardrobe the sweatshirt is about as basic as it gets. A sports-heritage shape, usually a little oversized and most definitely super soft, the humble sweater is a pretty standard addition to your outfit arsenal. But don't be fooled by its simplicity because this season's army of sweatshirts are anything but basic.
Lifted with everything from oriental embroidery to punchy slogans and frills, the new gang of sweaters are fashion heavyweights much like the season's swishy pleated skirts and foiled blouses. Whether you style yours with no-brainer denim, inject some rock with leather trousers or a skirt, or contrast a sporty sweater with a brocade mini, you'll find this cosy top easily magics up as much impact as the more trend-driven A/W wardrobe offerings. (Lace skirts and velvet dresses, we're looking at you.)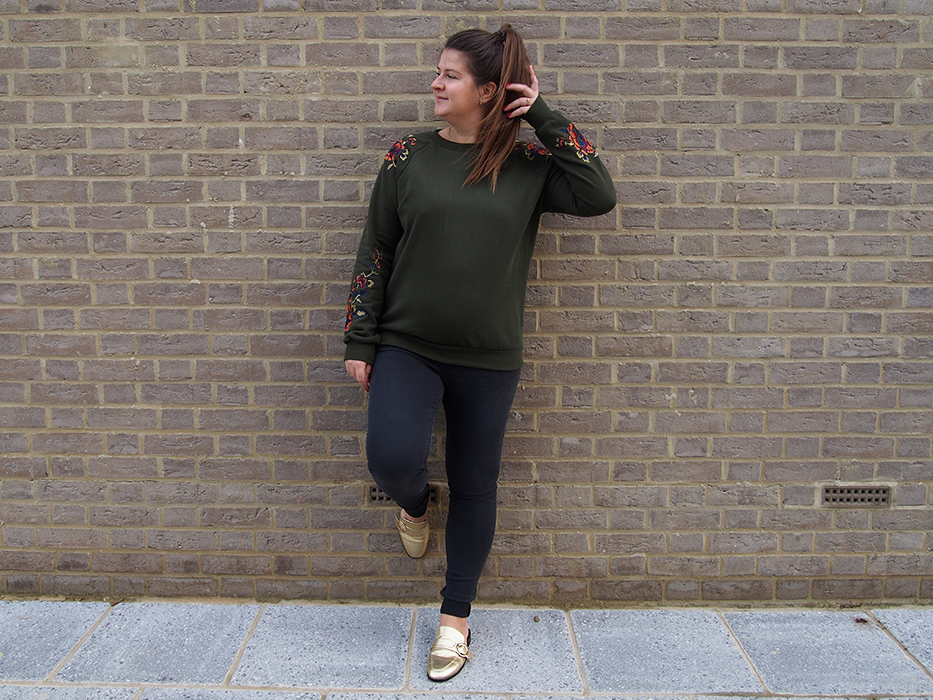 Elevated Sweatshirts: What To Look For
Zone in on whimsical embroidery, lettering and motifs that take your fancy and don't overlook a bold colour. This Next birds and blooms pretty is so intricate up close, and the khaki colour base is perfect for slotting into my autumn wardrobe. I've also got my eye on Asos's amazing all over frilled style. Loving how it's part romantic, part sporty and in understated grey, I just know I'll wear it loads.
The Sweatshirt Edit 
Obviously I had to style this amazing sweater with hair up. The best of the embroidery is on the back, positioned across the shoulders, so a sleek pony fits the bill. (Confession: I shot this on a Sunday and it was always going to be a hair up day tbh.)
Style With These Hero Buys 
I upsized to get a little more room and longevity out of this one (the growing baby bump still has another three months to expand) but I actually think it suits a roomy shape, and if I'd gone true to size it would have been a bit short and tight.
Try With A Backless Loafer
Keeping with the cosy Sunday spin, these gold backless loafers really complete the sports glam feel. I picked up these ones in River Island and although they sold out in about two days flat – sob – Asos still stocks the silver version and I couldn't recommend them more for comfort.