You see the thing with stripe dresses is that no matter how current, classic, elegant, on point or quirky the cut, they'll always remind me of my old school uniform. You know, those cotton summer dresses you wore with frilly socks and a cardie? I just loved them, putting on one of those preppy little numbers always put a spring in my step years ago on the way to school – even when it was swimming days (it was an outdoor pool and no it wasn't heated!)
That exact nostalgic feel-good is exactly what I'm getting from this frock– it instantly transports me to my summer youth. Something about the uniform red and white, plus the feeling of crisp, fresh cotton on the skin.
Stripe Dresses: Details To Look Out For
A few details take this dress from ok to amazing. The Bardot ruched neckline, bow tie cuffs and dainty button down front adds enough interest without detracting from the subtle beachy stripe. Definitely reminds me of something you'd find in a beach hut – the curtains or cushion perhaps – which is a look I love during the warmer months. When clothes make you feel like you're on holiday all of the time, that's what we're looking for, right? But it's still smart enough for the office or taking a meeting.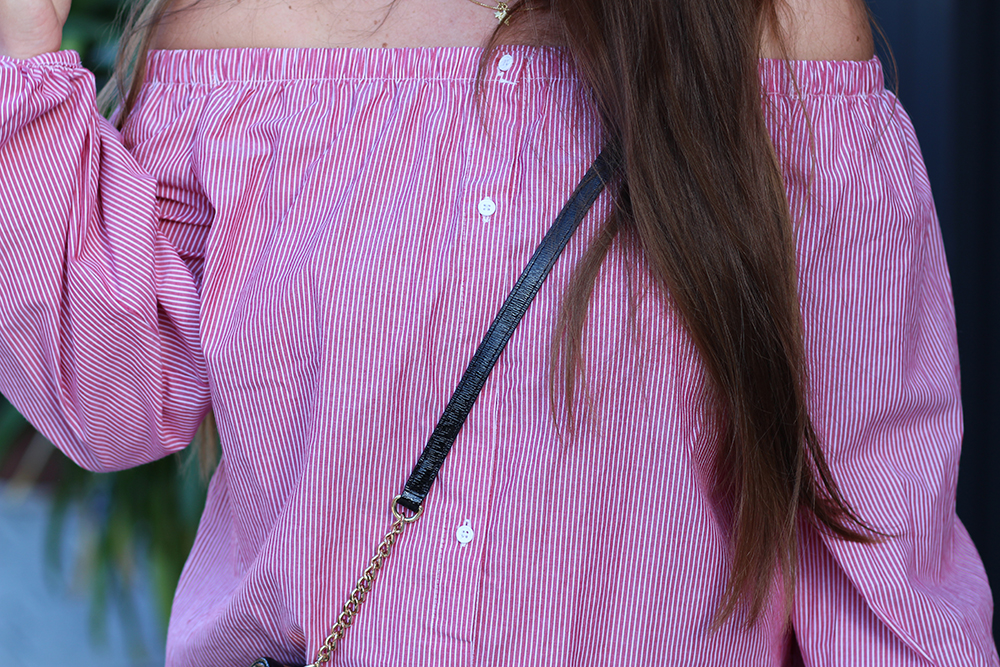 This one's also available in blue and comes in at a ridiculously good £12.99. I know, I couldn't believe it either. There's lots more where this came from too, seems a surplus of summer stripes are donning the rails right now.
Stripe Dresses: Shop It, Style It
My bags are Longchamp, Michael Kors and the tassel keyring/charm is an old Boden favourite I clip onto everything. The leather just gets better with age. There's similar at Cath Kidston, Ted Baker and I've been drooling over pretty much every key fob in Tory Burch's summer collection for yonks – the pom poms and parrot being highlights.
Want to see what else I'm living in at the weekend? Right this way for the new Daisy Knights apparel collection.