As a blogger, journalist and mother, my everyday outerwear has to work hard if I've any chance of surviving the week in one piece. While I'll openly admit I've got more than a handful of knockout coats and jackets in my collection, (pink maxi, tan suede 70s, statement faux fur and one beautiful white Italian wool peacoat that's forever at the dry cleaners) this winter, being a first time mum, I've had to totally rethink my outerwear game. Starting with a neatly cut aviator jacket.
The extra special, wow pieces are great for days in town solo, but with bubba to move between my arms, the pram, car seat, floor, highchair and back again, the rest of the time it's the practical statement-makers winning the race. Styles that go effortlessly with jeans and tops are really putting the easy into my life right now.
So it's blooming cold, we know that already. It's been the first winter in forever where it's actually snowed before Christmas. The frosty mornings are making things feel way more magical this December don't you think? To keep snug during the cold snap, ensure I embrace the morning walks (instead of staying indoors in my slippers making endless pots of tea – oh so temping!) and tick off all the major points on my mama wish list, the retro inspired aviator jacket's coming out on top.
The brief is simple: warm, comfortable, roomy, washable, great for sitting in on the train or dashing around the supermarket… Basically, 10 month old baby-proof! Being able to throw on over just a t-shirt if nipping out with Hector in the pram is key. While not ignoring the need to accommodate jumpers and knitwear when a more substantial day out ensemble is required.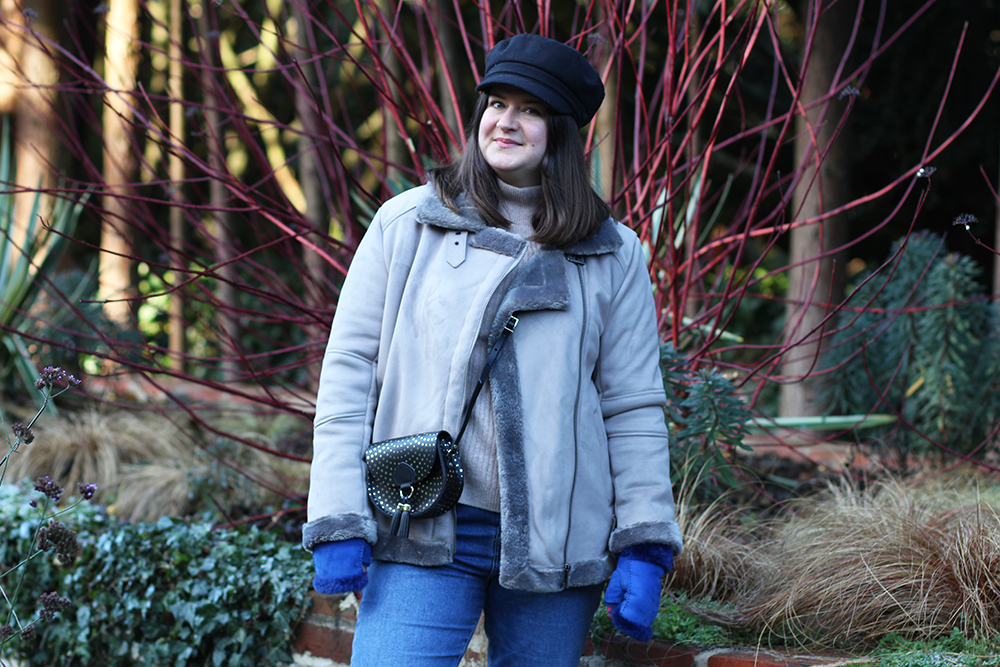 Aviator Jacket Edit: What To Buy
I've found my ultimate in White Stuff's Nene cut, the roomy-yet-nipped fit just works for me, plus it's the most snuggly aviator I've tried on in so long. Look out for anything that isn't classic tan or brown to tap into the season's key look. The best aviator jacket buys sit on the hips (think longer than your leather biker style), include buckles, belts and hardware details.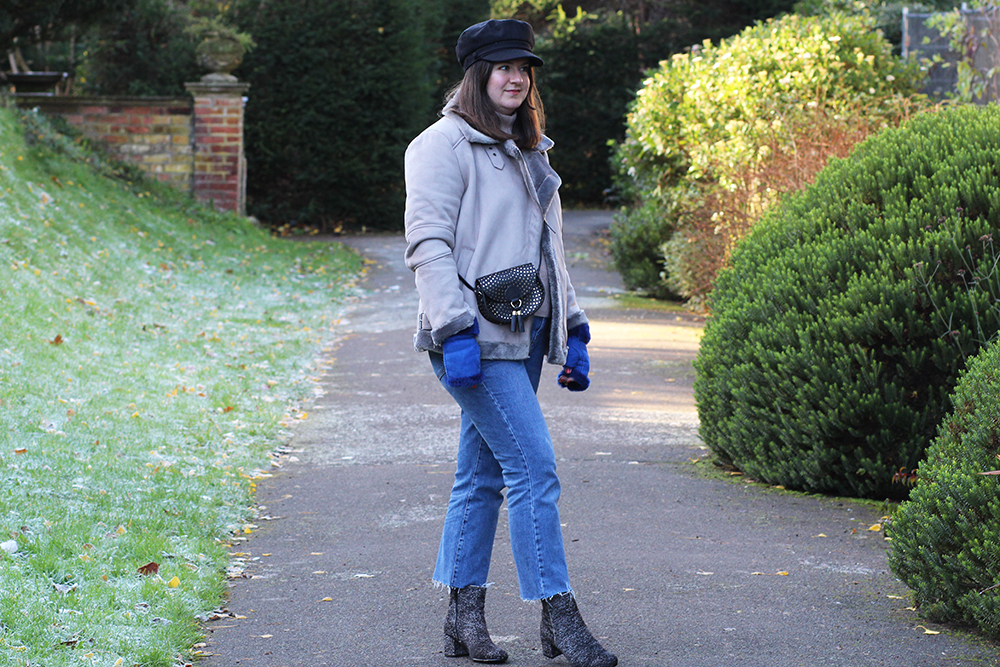 I also found these mega block heel ankle boots at White Stuff too. They've got all the seasonal sass via a punchy monochrome finish, coupled with optimum wearability thanks to that sturdy, chunky heel shape and height. Also spied in velvet and suede finishes, such a great staple boot buy and you won't be disappointed with the quality. Buy once, love forever.
There's a handful of accessories I'm reaching for daily that you totally need to try out too.
The Cambridge Satchel Company is one of those need-to-know brands that will hook you once you've snagged your first bag buy. The craftsmanship in each bag is clear to see, with thick, robust leather left in its rawest form on the inside and on the outside – POW – the smartest and kookiest colours and prints around. They offer monogramming, so you can personalise your new handbag with your very own initials and there's everything from micro tassel star prints (like mine) to vintage-inspired backpacks to pick from. This navy one is decorated with a tiny gold star haze print and it's a real hero for taking from day to night over the Christmas party season.
Noticed the rise in popularity of the humble retro baker boy cap? That's down to its ability to make everything look on point, hide bad hair days and keep you warm. A style triple threat! I scooped mine at Topshop where you'll find everything from postbox red to leopard print and plain black. If you're not sure, just try one on the next time you're shopping, you'll totally get it the moment it hits the head! Let me know how you get on!
You've all been asking about these cropped kick flare jeans over on Instagram so stay tuned for more info later this week. They're Topshop's Dree and my new go-to, be sure to check back in for a post giving the low-down on Topshop's cult new denim shape.
Aviator Jacket: Wear With These…
This way for December party inspo. There's a fully embroidered jacket you're going to love.