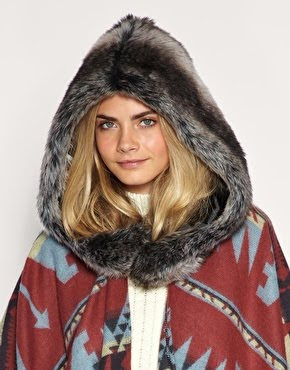 Faux fur snood, £38 Ana Konder for Asos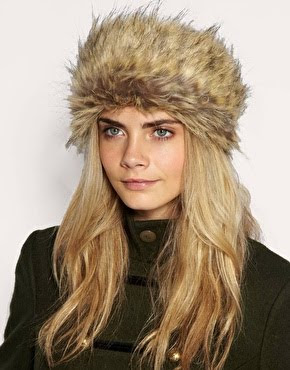 Available exclusively at
Asos
these faux fur accessories by Brazilian designer Ana Konder are just a glimpse of some of the fake fur pieces available on the high street this season. Proving to be a trend hit, demand for this socially torn product is high. Morally it is drummed into us that fur is bad and that wearing faux shows a support for the terrible cruelty endured by animals in the fur industry.
A few years ago when I was a young fashion assistant I made comments about wearing fur that came back to haunt me. The Editor asked me about a vintage fur coat I wore. The Daily Mail's Liz Jones had called our office whilst she was researching for an article she intended to write about fur. The phone call later sparked a debate in the office. Back then I hadn't given much thought to the consequences of wearing fur, I just wore what I liked the look of and the coat in question was a snip at £40 from a Camden market. It was warm and a substitute for central heating when I couldn't afford to heat my flat! Anyway to cut a long story short,
this is what The Daily Mail ran on 30 November 2006
:
'
Jane Bruton, the editor of Grazia magazine, told me that the other day a young member of her staff had turned up to work in a fur coat, and when berated for doing so, wailed: 'But it's vintage.' (Vintage is, when it comes to ethics, no defence. Although the animal has long been dead, wearing the coat still gives off the message that fur is beautiful, and acceptable.)
When Jane asked her if she would wear something with a brand new fur trim, she replied that she would, that she wouldn't even think about it'. Sixteen years on from the first 'I Would Rather Go Naked Than Wear Fur' billboards, how on earth did British women become so, well, cruel?' Liz Jones, The Daily Mail
Â
The young member of Grazia's staff was ME! Needless to say I felt so silly for spouting throwaway comments about a subject I wasn't fully educated about and it was a real fur turning point for me. I'm not so sure that real fur products have a place in fashion today. With such great faux alternatives available, is there really a need for the continued use of real fur in the fashion industry?
Â
I no longer wear real fur. I switched to faux a couple of years ago and although anti-fur campaigners have often said to me it's about what the faux fur connotes, about the message it sends out, I'm afraid I do still love wearing faux. The warmth, the vintage glam feeling it provides and the versatility – a faux fur headband worn with almost any winter outfit is a champion for solving bad hair day traumas if nothing else. Even following two verbal attacks on the street whilst wearing faux fur, I strongly feel that I won't be bullied out of wearing this synthetic substitute.
Â
Where do you stand on the fur debate?
Â
Read Liz Jones's article Fur Is Back… And The Fashion Industry Should Hang Its Head In Shame here.